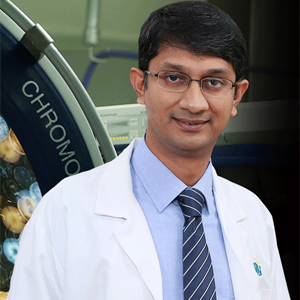 Dr Ananthakrishnan Sivaraman currently serves as Consultant Urologist and Clinical lead for Robotic surgery at Apollo Group Of Hospitals, India. He is also an honorary faculty member at the University of Central Florida. Dr Ananth completed his basic medical schooling at Madras Medical College. His Urological training was also at Madras Medical College where he stood first in the MCh University examinations and was awarded the ' Prof. Rajasekaran Gold Medal' in Urology.
Further training in Uro Oncology and minimally invasive surgery was completed in England at the Whittington and University College Hospital, London and Eastbourne District General Hospital, Eastbourne. He also completed his Fellowship in the Royal College of Surgeons of Edinburgh(FRCS(Urol))
He then completed his Robotic surgery fellowship training at the Global Robotics Institute – the premier institute for robotic surgery training in Orlando , Florida from 2010 to 2012. Under the tutelage of Prof. Vipul Patel he has performed more the 600 robotic surgeries.
Dr Ananth specializes in Minimally invasive/Robotic surgery and Uro Oncology. He has several publications in peer reviewed journals and served as the managing editor for the Journal of Robotic surgery from 2010 to 2012. Hs has authored book chapters on robotic surgery and robotic training. He is also faculty in University College London Robotic Centre for the Advanced urological robotic course as well as faculty in Society of Robotic surgery.
Dr Ananth's passion is to help prostate cancer patients lead better lives and to this effect, he has conducted several national and international camps to raise awareness and educate people about prostate cancer. Dr Ananth is best known for pioneering robotic surgery in South India.