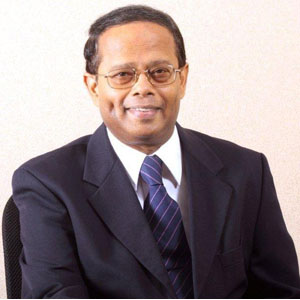 Sridhar Ganesh is the Chairperson of the Management Development Centre of Loyola Institute of Business Administration at Chennai. He is a graduate in Physics, and holds a post graduate diploma in Management from IIM, Calcutta. He has over 40 years of experience in varied facets of human resource management, at both operational and strategic levels.

He started his career with Guest Keen Williams Limited in Kolkata and then had a stint with Metal Box prior to joining Berger Paints as head of personnel. He subsequently moved to Mumbai to join Cadbury India as their Director-HR and was a member of the board. In 2002, he was appointed HR Director for the Africa, India and the Middle-East region based in the UK.
He is an advisor at IIIBFT ( Indo - International Initiative for Billions of Fruit Trees). He is also a member of the Advisory Council of Loyola Institute of Business Administration (LIBA), the  Expert panel of Coaching Foundation of India.He is also on the Advisory Board of Shantimalai Trust,an NGO based in Thriruannamalai, Tamilnadu
He retired in late 2013,as the Director - HR and Lead Director for the Diversified Businesses of the Murugappa Group and a member of the Murugappa Corporate Board, the highest strategy and policy making committee of the 4bn USD Conglomerate. Prior to joining the Group, he was the Director of Learning & Development, Cadbury Schweppes plc-Europe, Middle-East and Africa.
He also serves as an Independent Director in the Boards of Limited, Adrenalin eSystems Limited (a subsidiary of Polaris, an IT major) and Equitas Housing Private Limited. His area of work and interest in recent times is  Executive Coaching,Leadership Development and Social Work.